Modular
Load securing coaching
Click on the logo to join the webinar
Free shipper coaching
Planned contents:
Date on request
Your way to an expert in load securing
You are a specialist or manager and for you load securing has been purely a driver's task up to now?
You want nothing more than clarity, structure and peace of mind to establish your load securing organisation?
Have you had enough of vague information and don't want to waste your time with lengthy research on the internet?
Then the new and unique modular load securing coaching is a must for you!
For whom is this coaching a MUST?
Expert status is a MUST for…
… dispatch manager or logistics manager, for example in the manufacturing industry!
You are responsible for packaging and transport processes at a time when the demands of your customers are constantly growing and the requirements of the legislator are becoming ever more stringent!
Success and failure, customer satisfaction or increasing complaints stand or fall with your decisions!
Ensure more security in the hectic daily business for yourself, your employees and your company.
But what is new here and different from other load securing training courses?
Basic training based on VDI 2700, DIN EN 12195 & CTU Code:
What is your concrete benefit?
Learn everything you need to know about law and responsibility for your everyday life – including tips for legally compliant load safety organisation.
In the live webinar you can exchange ideas with your load securing coaches. Use the recordings afterwards for your further work.
For each module, you will receive a comprehensive but brain-friendly handout to provide you with targeted information and guidance.
Save on travel and accommodation costs!
Reduced and better plannable personnel deployment!
Can be used anytime and anywhere – even in the home office!
Put what you have learned into practice in the subsequent practical workshop. Driving tests, exchange of experiences and getting to know each other are included.
We conclude your online coaching together in the last week of training. Ceremoniously, with dignity and in keeping with the occasion. Congratulations on your "expert" status.
That's what my customers say:
Christian Rennie
I am your specialist and coach specialists and executives for practice in your company. You benefit from my expert knowledge gained from more than 15 years of experience.
I am the owner of the brand "Rennie.expert". As a consultant, I help you as entrepreneurs to break new ground in the areas of transport and logistics and to optimise your area of responsibility.
This concept of "modular load securing coaching", which is unique in Germany, was developed by me. I am also the author of several books on specialist topics, which have been published by Innova Verlag Ltd. in Ulm, among others.
When does "The Path to Expert Status" take place?
19.10. and 20.10.
Practical workshop in Nuremberg
Agenda for expert status
Basic modules
(over 11 hours of content)
Practice workshop:
(1-day training)
LIVE-WEBINARE
Between every second basics module, there is a live webinar on Zoom with your load securing coach.
MY GIFT FOR YOU:
After completing the complete modular load securing coaching, you will receive a load securing consultation from me at your company free of charge.*
Here you will receive a professional target-performance comparison with the adjustments or potentials you have made so far – with a neutral certificate as well as recommendations for your everyday life.
*You only pay the travel costs and the overnight stay. Duration: max. 1 day
Do you have any questions?
Do you have any more questions now?
Then send me an email at info@rennie.expert
Take your chance now!
Take part in the modular load securing coaching and become an expert!
Ensure legally compliant load securing organisation in your area of responsibility!
Give your employees security in everyday life!
Be part of an exclusive group of participants, as I will allow a maximum of 25 participants per training session!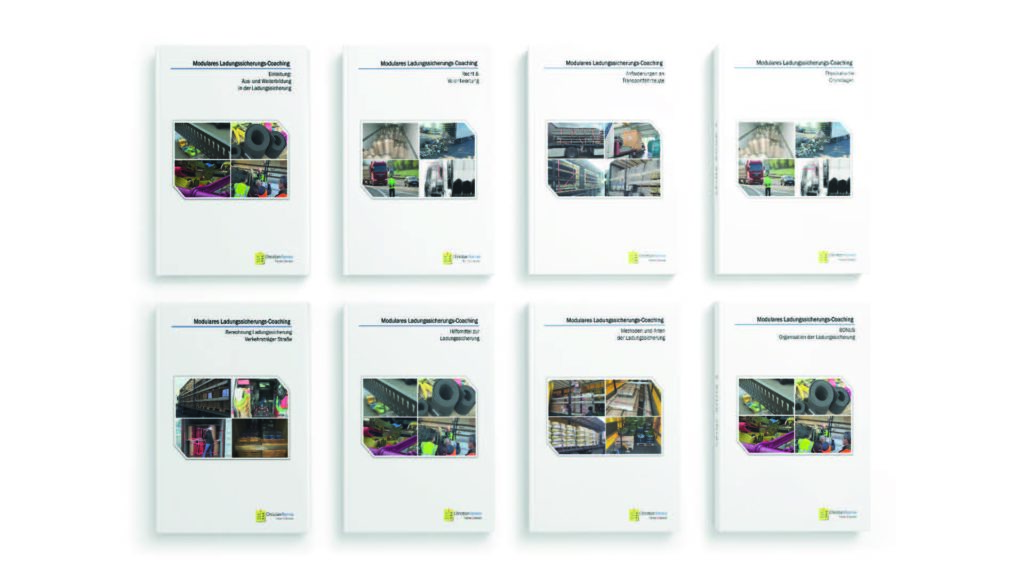 What are you waiting for?
This is your path to becoming an expert: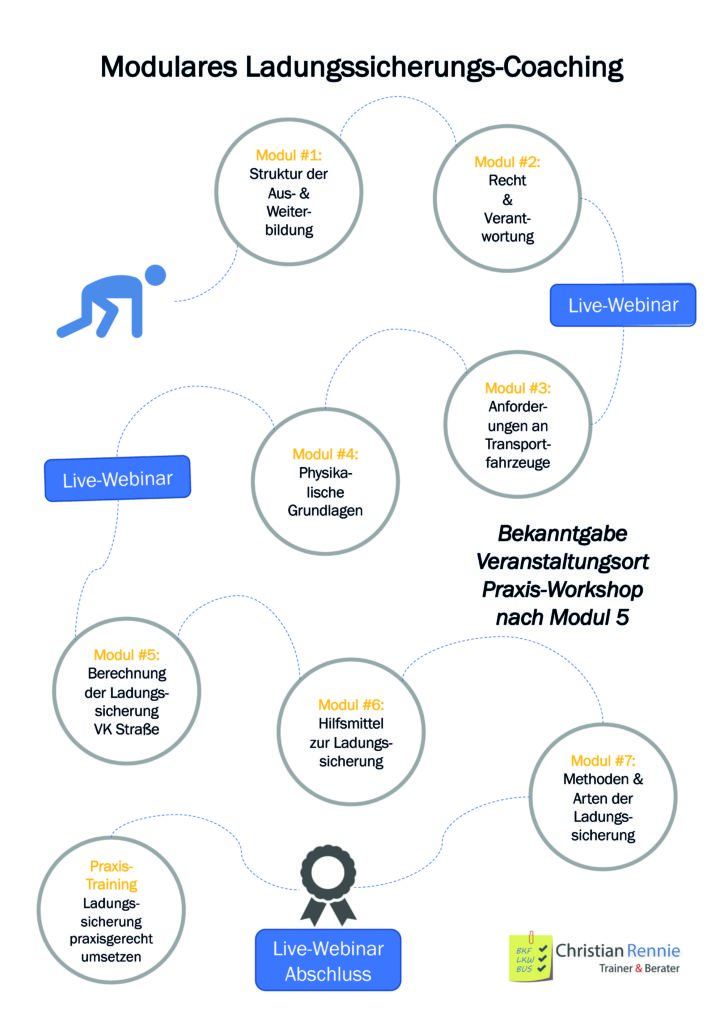 Payment methods
You pay by invoice. Until revoked, these services are exempt from VAT pursuant to § 4 No. 21 a) bb) UStG.
Please transfer the aforementioned amount after receipt of the invoice until the beginning of the event to the following account without deductions. Please quote the above invoice number when making the transfer.
Register here bindingly for 399,00 € per person: